Kiki and Jules: 4 stars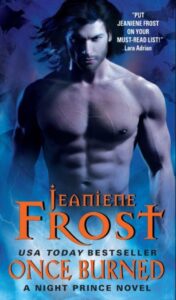 http://www.amazon.com/Once-Burned-Night-Prince-ebook/dp/B006SJLL82/ref=sr_1_1?ie=UTF8&qid=1341504522&sr=8-1&keywords=once+burned
Wow what an exciting entrance to the Night Prince World. Once Burned is a fabulous beginning to this new series from Jeaniene Frost where we get a pass into the world of Vlad Tepesh, our favorite psychokinetic vampire from the Cat and Bones series. We are introduced to an entire new cast of riveting characters, one of which is our new favorite heroine, Leila. Leila "Frankie" Dalton is a freak of nature, with a lightning bolt scar from her face down her arm, but she is still a rare beauty. This strong creature not only has the power to shock you all to bits with her voltage, but with one touch she can find you. Which is exactly how she and Vlad come to meet.
Vlad, know for his cruel relentless tactics, is not easily surprised to find out that someone is out to kill him. But this time Vlad is shocked, as he comes to Leila's rescue, that this rare woman has captured his fascination. He quickly finds out that her special ability is something that others would "kill to have" and finds that she is in need of his protection. And we all know Vlad "protects what is his." Leila, not easily swayed, is confused and thrown back by this tyrant who impales his people as punishment and doesn't bat an eye at reducing anyone to ash. She doesn't know whether to give him her heart or run for the hills. Her past haunts her and she fears that a future with Vlad could be just as haunting. At every turn she learns something new about this infuriating and passionate man. As she would say "I am so Googling 'Vlad Dracul' once this is all over. Wikipedia knows more about his past than I do."
We absolutely loved this book! We have had excessive conversations about Vlad and Leila. We have been spinning our wheels about the next step. Some people have written that they did not like the ending because it didn't wrap thing up like the Mencheres and Spade series did. But we loved it! It leaves so much open for speculation. What will come next? Will Leila become a vampire? If she does, who will turn her? Oh the possibilities. You have to read this book for what it is, a beginning, and oh boy what a great start! We highly recommend this book, but have one partial suggestion. Even though the book can stand on its own there are some points you may not understand unless you have read the Night Huntress series. We suggest you start with Cat and Bones and then move on to Vlad. We promise you won't be disappointed.
Happy Reading
~Kiki & Jules
P.S. Jeaniene Frost - We hope all your covers are as hot as this one. So drool worthy. We are so glad we didn't have a set vision of Vlad in our heads because we don't think we could have imagined that!!