Like many other women across the world I was captivated by the 50 Shades of Grey Trilogy. After I finished I found myself wishing there was more. Luckily for me some of my favorite authors had their books coming out, but I still found myself searching for another similar series. Why? Well, we all have to admit we all want another Christian Grey. I agree sex sells, and I obviously can't say anything because I'm buying, but it was the plot that sold me. Who doesn't want to take a damaged guy and unravel the mystery. We all want to look deeper and sell that person on a "vanilla relationship." And it doesn't hurt that they are sexy as all get out.
So I bring before you some Christan Grey supplements. They are not the real deal, and some may not match up, but others may pass your expectations. So give them a try if you will.
http://www.amazon.com/Bared-You-Crossfire-Novel-ebook/dp/B00846REIS/ref=sr_1_1?s=digital-text&ie=UTF8&qid=1341603263&sr=1-1&keywords=bared+to+you+a+crossfire+novel
Bared To You by Sylvia Day
Rating: 3 Stars
This is a Crossfire series and is the first book. We get introduced to Gideon Crossfire and Eva. They both have damaged pasts and a strong appetite for desire. The sex scenes were a little too often for my liking and I felt took from the plot. But I am pulled in and will read the next book in the series coming out in October. This book is the closest to 50 Shades, even having some call it a 50 knock-off.
http://www.amazon.com/Gabriels-Inferno-Series-ebook/dp/B004X6T3U0/ref=pd_sim_kstore_1?ie=UTF8&m=AG56TWVU5XWC2
Gabriel's Inferno and Gabriel's Rapture by Sylvain Reynard
Rating: 3.5 Stars
The Gabriel's Inferno Series takes the "Hot for Teacher" to new heights. When Professor Gabriel Emerson starts getting the hots for his "hands-off" grad student Julia Mitchell he fears for his career, but is he willing to follow her into hell just like Dante? This book has some interesting twists and turns, and has enough to get your temp rising. It is a very intellectual book that takes for granted that we have all read and understood Dante, so be prepared. At times I felt it was a little out of my league, but overall liked it.
If you are willing to adventure to my side of the tracks and try on a Paranormal Romance I have my #1 suggestion: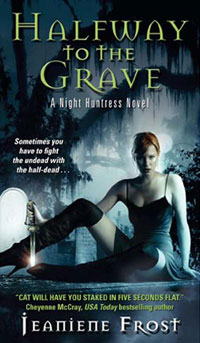 http://jeanienefrost.com/books/
The Night Huntress Series by Jeaniene Frost
Rating: 5 Stars and then Some!!
Take a walk on the wild side with Cat and Bones my all time favorite series, and all time favorite couple. Starting from book 1 in the series I was hooked. Cat is a powerful woman that doesn't take "no" easily and is more than willing to fight to the death for her cause. Bones is in a class all his own. His passion for Cat and his people is evident at every turn of the page. By book two and the famed Chapter 32, you may be asking yourself "Christian who?" This is a paranormal series so it has vampires, ghouls, demons, and more, but the storyline is something I think anyone can follow. Girl with horrible past meets boy with dodgy past and is reluctant to see where it goes, but when it goes we are in for one hell of a ride. Oh, and the humor!!! This is a series that makes you laugh-out-lout, pee your pants....I have read, re-read and will most certainly read again these books and am excited that she has branched out to more series with other characters in the books. Try it out and see if you don't love it as much as I do.
See if these books don't help you get through your 50 Shades withdrawal!!
Happy Reading!
~Kiki